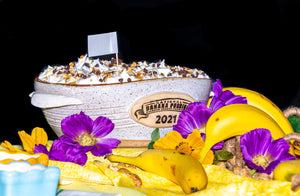 Valentine's Day Pudding In An Heirloom Pot
Sale price Price $ 50.00 Regular price Unit price / per
There's no better way to celebrate Valentine's Day than with banana pudding baked with love! For a limited time only, we're selling our Mama's Best banana pudding delivered in 2021's hand-thrown clay banana pudding pot. 
The official 2021 National Banana Pudding Festival pot is make by local artist Jackie Schlicher of Wildhair Pottery Studio. Each is hand-thrown from 2 1/2 pounds of clay, fired, and finished with a food-safe sealer. These are heirloom-quality pieces that make a great gift.
Plus, each purchase supports a nonprofit organization in Hickman County, TN—the site of the annual National Banana Pudding Festival.  
This year, we're offering banana pudding and supporting the following nonprofits: 

Fairfield Church of Christ Youth
Fairfield Relay for Life
Barbara's Brigade Relay for Life
Centerville Women's Club
East Hickman Relay for Life Teams
Children's Tumor Foundation 
COST

Each banana pudding pot filled with pudding is $50. 
ORDER BY PHONE
Call Joy Sullivan at 615-330-1146. 
PICK-UP INSTRUCTIONS
Pick-up will be from 3-5 p.m. on Valentine's Day at Centerville RiverPark.
Address: 142 N Central Ave, Centerville, TN 37033